Adventure Accessories for Honda Africa Twin
As usual, prior to starting my trek into adventure riding I read in forums, watch lots of videos, and talk to riders with experience to identify the list of things I would want and need. I try to create a full list, along with the estimate cost of each item on the list... and then I prioritize the list. The purchase order frequently changes when I find good prices that make sense to by them at a time I can get the best deal... and of course dependent on how much liquid cash I have available at the time.
I ranked my top accessories by looks, protection, and touring. Top Africa Twin Accessories 9:49 minutes
CLICK PHOTOS to see higher resolution.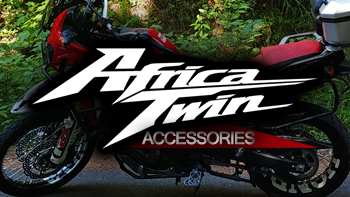 Bike Accessories
Accessory
Featured Brand
Retail

TR47 and TR36 Terra Side Cases

The Africa Twin takes two different side case sizes because of the high exhaust. They are made from forged aluminium alloy, a stronger and lighter type of aluminium which allows a reduced cross section of 1.2mm to obtain a minimum weight with maximum resistance. AISI 304 stainless steel hinges. The aluminimum plate gives more mounting point options.

$847

LV ONE EVO Stainless Steel Full Exhaust System

This full system trims over 5 lbs from the OEM system, while improving the sound and performance.

$740

TR37 Terra Top Case with Aluminum Plate

This lockable top case and as with the side cases is made from forged aluminium alloy and stainless steel hinges. The aluminimum plate gives more mounting point options. The aluminum plate requires adapter plate HOCR12ST.

$612

Crash Cage

Africa Twins are a significant investment and worth protecting. T-Rex has been my main bike protector for the last several years.

$400

4P Side Rack System Mount

This mounts the TERRA side cases, and is also compatible with the SH35 and SH36 side cases. It is a stainless steel structure covered with high resistant powder coated paint. Thanks to its 20 mm diameter, the thickest on the market, it provides maximum durability and resistance to both sides that is also reinforced with a crossbar for the most extreme rides.

$237

Large Pegs

For a big bike, you should have a big platform to stand on... and these IMS pegs are the biggest we could find. Made in the USA with a lifetime warranty!

$225

Center Stand

I am of the opinion that on a large bike, a center stand is mandatory. I think they should be installed from the factory and then let folks that don't want them, just take them off. Everything from maintenance in the garage, to fixing something on a trail... I want a center stand.

$220

Adjustable Windscreen

I expect to do some longer rides on this 1000cc bike, so having the ability to raise the screen will really help my comfort, and this hardware will allow me to lift the screen up to 5.5 inches... and it offers the ability to tilt! And if that wasn't enough, it has a built in accessories bar.

$182

Headlight Guard

This guard provides great protection for the headlights, while adding a cool look.

$178

Tank bag with PIN System

This bag is full of features such as charging ports, touch screen phone holders & glove friendly zippers. The innovative PIN SYSTEM secures the tank bag to the motorcycle in a safe and easy way.

$150

Atlas Throttle Lock

I'm trying their top mount on my Africa Twin and the bottom mount on my CRF250L. I've used three others, so it will be interesting to compare them. Check out my accessories video for more info.

$145

Radiator Guards

These guards provide essential protection to the radiator.

$124

Top Case Backrest

If you ride two up, you will want to get this comfortable add on. Even if you don't two up, the backrest gives the case a refined look. The materials quality and stiching is really nice.

$124

TPMS

I searched and determined the best TPMS for me to try was the new Fobo 2 system which is BlueTooth 5.0 and will work nicely with my integrated helmet... giving me an audible alarm if the tire is under the allowed PSI. This will be on my Africa Twin, CRF250L, and my Tandem axle trailer. Video coming in 2021.

$99

Spark Arrestors

Fisch Moto in Canada manufactures spark arrestor inserts that have been approved by the USFS.

$79

Inner Soft Bag

The expandable inner bag enables you to separate some of your storage items, and creates a soft barrier between contents and the aluminum case walls.

$68

Forkshield - Wind Deflector

The Swegotech forkshield helps resolve a wind buffetting problem on Africa Twins.

$40

Rear Reservoir Guard

Rear brake reservoir guard.

$28

Inner Mesh

The inner mesh screen helps hold your contents in place when you open your side case.

$14

High Fender Kit

There is obviously a functionality improvement if you plan to do heavy off roading... but for me I think the low fender of the Africa Twin looks dorky, so I wanted the change for looks as much as anything else (don't hate me 'cuz I'm beautiful... that pun is from a beauty commercial in the '80s). Polisport 8553500001 fender, Polisport fork guards 8398600002

$350
GPS specifically for motorcycles
$200
Mirrors

I bought cheap imitation mirrors (good vision, not sure how well they will hold up to offroad).

$80
Hand Guard Armor

My AT comes with OEM hand wind deflectors with zero added protection, so I added the armor bracket for better protection.

$58