RDR Northwest Rodarama Home 2017 NWR 2016 NWR All NWR NEWS All NWR VIDEOS

Northwest Rodarama and RDR
Starting in 2016, Rides Done Right began appearing at the Northwest Rodarama in Puyallup Washington. If you haven't subscribed to our YouTube channel yet - please do so and you will be emailed when we upload videos... but don't forget to check back here to see photos and more that we only post on our website.
We focus most of our interactive social media on Facebook, so Like us and visit regularly to see what we are up to.
Bruce Wanta
We caught up with Bruce Wanta and talked about this amazing car that has won everywhere it has gone. It debuted in 2017 at the Grand National Roadster Show where it won the America's Most Beautiful Roadster AMBR award, and went on to win the Worlds Most Beautiful Custom. For the first time the contemporary Ridler Award winner and the AMBR winner competed side by side and this beauty won. The list of wins is long and if you get to see this car, you will know why. This video shows the top operating up and down more than once, and you will also see the powered side louvers and grill open and shut. It is no surprise that this car was the 2018 Northwest Rodarama Hall of Fame Winner.
RDR Interview at NWR
9:48 minutes |
Car Photo
---
Don Richardson
Don owns and operates
Richardson Custom Auto Body
and creates jewels for his customers, but this is his personal jewel. He bought the car in 1993, but said the customer's cars always come first. After it sat for several years he realized if he didn't start working on it, the car would never get done... so he dedicated his weekends and after work hours to it and finished in 2018. We also show photos of customer Bob Torppa's 68 Firebird, and talk about current project including a Ridler chaser for Jerry Logan.
RDR Interview at NWR
4:33 minutes |
Car Photo
---
Troy Adams
Adamco Motorsports owner Troy Adams and his son-in-law built this super clean truck that has won some nice awards already. In Boise, they won best in class, the ISCA outstanding detail award, and the Reister's Rod Shop pro pick that is selected by Ken Reister and Chip Foose.
RDR Interview at NWR
7:15 minutes |
Truck Photo
---
Jerry Logan
Jerry debuted this Mustang at this year's NW Rodama. We show photos of the car and hear details from this car and some of Jerry's other Mustangs.
RDR Interview at NWR
9:58 minutes |
Car Photo
---
Jerry Dunbar
They call this slammed Volkswagon type 1 a Volksrod when they build a VW with a hot rod influence. Jerry Dunbar entered a Vegas Build Off show and won with this great car that he and the Kahiko Kula car club completed in nine months. Since then it has been seen in several shows and even a magazine.
RDR Interview at NWR
5:39 minutes |
Car Photo
---
David Jothen
We've seen photos of this car for a couple of years and had been wanting to see it in person, so we caught up with owner David Jothen at the 2018 Northwest Rodarama. It's a project he had been wanting to do for a long time and did as a tribute to his dad.
RDR Interview at NWR
9:48 minutes |
Car Photo
---
John Rydzewski
In 2017 John Rydzewski's fabulous Ford F100 made it into and the Northwest Rodarama Hall of Fame and in 2018 it made it in to the Portland Roadster Show Hall of Fame. We caught up with John again at the 2018 NW Rodarama and talked about how ISCA points work.
RDR Interview at NWR
7:21 minutes |
Truck Photo
---
Dan Brewer
This one will be extra appealing for our gear heads that like old motor performance. Dan Brewer and Shaver Racing Engines built this flat head for Bruce Leven's 35 Ford roadster. In addition to the McCulloch centrifugal blower it has Navarro heads, a full flowing oil system, Scat rotating assembly, JE pistons, and an ISKY cam. Their shop also builds sprint car racing engines for World of Outlaw cars that include racers like Tony Stewart.
RDR Interview at NWR
6:57 minutes |
Car Photo
---
Caricature from 2018 Northwest Rodarama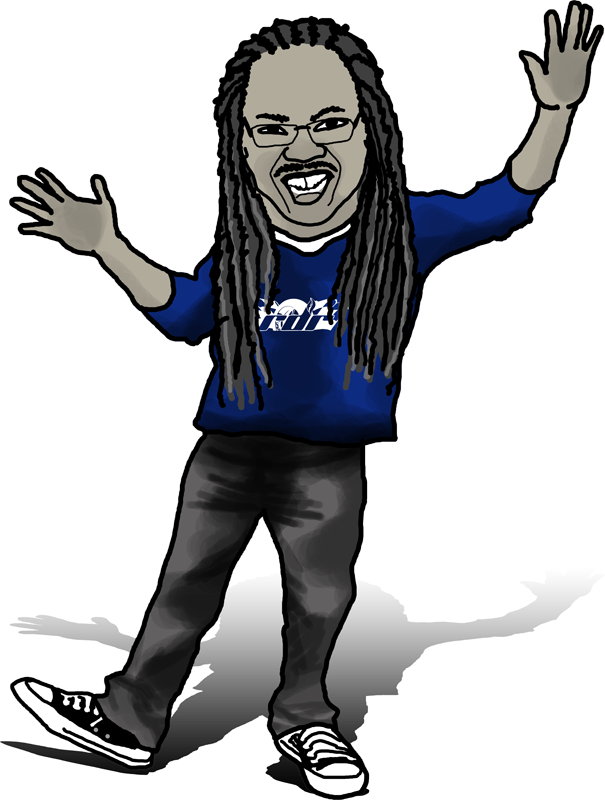 Following the 2018 show, Larry whipped up this caricature of one of the shows reoccuring participants... Mario Pipkin.
---
Previous Northwest Rodarama Shows
---